Welcome to the Pakistani Wiki!
This wiki is made for all Pakistanis across the globe and all those people who are interested in our culture. So please feel free to contribute to this wiki.
Pakistan
Pakistan is a beautiful country that came into being on 14th August 1947, from the blood of at least ten million people. Pakistan is a land to which Mother Nature has blessed everything. People of Pakistan enjoy all seasons throughout the year. About every kind of fruit is grown here and is of the best quality.All the four provinces of Pakistan have their own cultures and these all merge and fall under the category of "Pakistani Culture". There are almost all beautiful physical features present in this country. Arabian Sea is present near Karachi. The second highest peak; Godwin Austin- commonly known as "K-2"- is also present in the northern part of this land of unparalleled, unsurpassed and unrivaled land of charm and beauty.
Languages
In Pakistan many languages are spoken by the people all the four provinces have their own provincial languages.In Sindh,Sindhi language is spoken by the people Punjabi is the provincial language of Punjab province, Pashto is spoken by te people of Khyber pakhtoon Khwa and Balochi by the people of Balochistan.Urdu is the national language of Pakistan.
Geography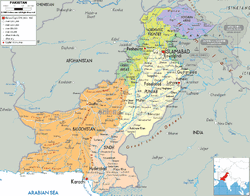 Islamic Republic of Pakistan is located between latitude of 23.25 to 37.05 north and extends from longitude 60.50 to 77.50 east, covering an area of 7,96,096 square kilometers.It is situated in Southern side of Asia.In south of Pakistan is the Arabian Sea,In South-West of Pakistan is Iran,India lies in the east,China is situated in the north of Pakistan.
Affiliated Wiki's
To affiliate with us, contact the local admins.
News
A.O.A !!

HappY IndePenDence DaY !!! Azaadi Mubarak ho !.

May Allah Always Shower his blessing on Our Beloved and Beautiful Country Pakistan.Peace be Upon our Beautiful country ! There's no Place Like Pakistan ! We have only one word in our Mouths "Dill Dill Pakistan and Pakistan Z…

Read more >

Okay.....  So.... Uhm.... Let's get it straight. I know I have been the most irresponsible admin ever, and the inactivity here is all my fault. Sorry, I apologize. WikiMedia was having those down servers for me and blah blah blah. Sorry again, and let's make thhis wiki one of th…

Read more >

HURRRRRAAAAAAAAAAAAAAAAYYYYYYYYYYYYY!!!!!!!!!!!!!!!!!!!111 Our very own Wiki's first "birthday" is approaching!!!!!!!! *grins* So, let's all get online on 7th April and celebrate! Plus, let's just hope that my  "plan" works out soon enough during these two days!

Peace!

Yours truly…

Read more >
Create an Article
On the Pakistani Wiki everybody is allowed to add and edit articles. Below you can start fast. Type the title of the article in and you can begin.
For help you can ask the following users:
Community content is available under
CC-BY-SA
unless otherwise noted.